Racial Justice with Sajari Simmons
IDI (Intercultural Development Inventory) Qualified Administrator Sajari Q sits down with Diana Delasala Lane to discuss her IDI workshops and how racial justice is a continued movement and not a fad. For more information, visit: www.RoaringForkShowUp.org
Anti-racism Course Launches in Valley
As Aspenites took to the streets this summer to join Black Lives Matter protests throughout the country, Sájari Simmons rose as one of the de facto leaders of the local movement. She has since spearheaded the group Roaring Fork Show Up, an organization built to support the local minority community.
Little Free Libraries to Focus on Books Teaching Anti-Racism
Six new "little libraries" built in Aspen Wednesday are meant to bolster education and conversation around anti-racism work. Roaring Fork Show Up, Aspen Words and Aspen Skiing Co. partnered to create the book drops, supported by a grant from the city of Aspen.
A History of Aspen Protests, From the 1950s to Today
The Back Lives Mater demonstrations in downtown Aspen over the past month follow a long tradition of protest in Aspen.
Remote and small as the mountain town may be, modern Aspen has made its voice heard on local and world issues since it started to become a hub of international wealth and power in the years after World War Two.
Ski Towns Show Support of Black Lives Matter Movement
Since George Floyd was killed by Minneapolis police officers one mouth ago, ski towns across North American have joined the worldwide protest of police brutality and racial injustice in the United States. 
AZYEP Talks with Roaring Fork Valley Students and Community Organizers about Police Brutality
Andy Zanca Youth Empowerment Program project coordinator Halle Zander presents perspectives of local students and organizers coming forward to condemn police brutality and demanding change through the Black Lives Matter movement.
A Tale of Two Epidemics — and Friendship
COVID-19 again dominates headlines in the wake of upticks across the country in the weeks after economic restrictions have loosened, including here in Pitkin County. But last Sunday, as Black Lives Matter demonstrations in the Aspen downtown core wound down with an announcement that this weekend's actions would likely be virtual, Jonathan Jackson reflected on another disease that's affected the nation throughout his lifetime.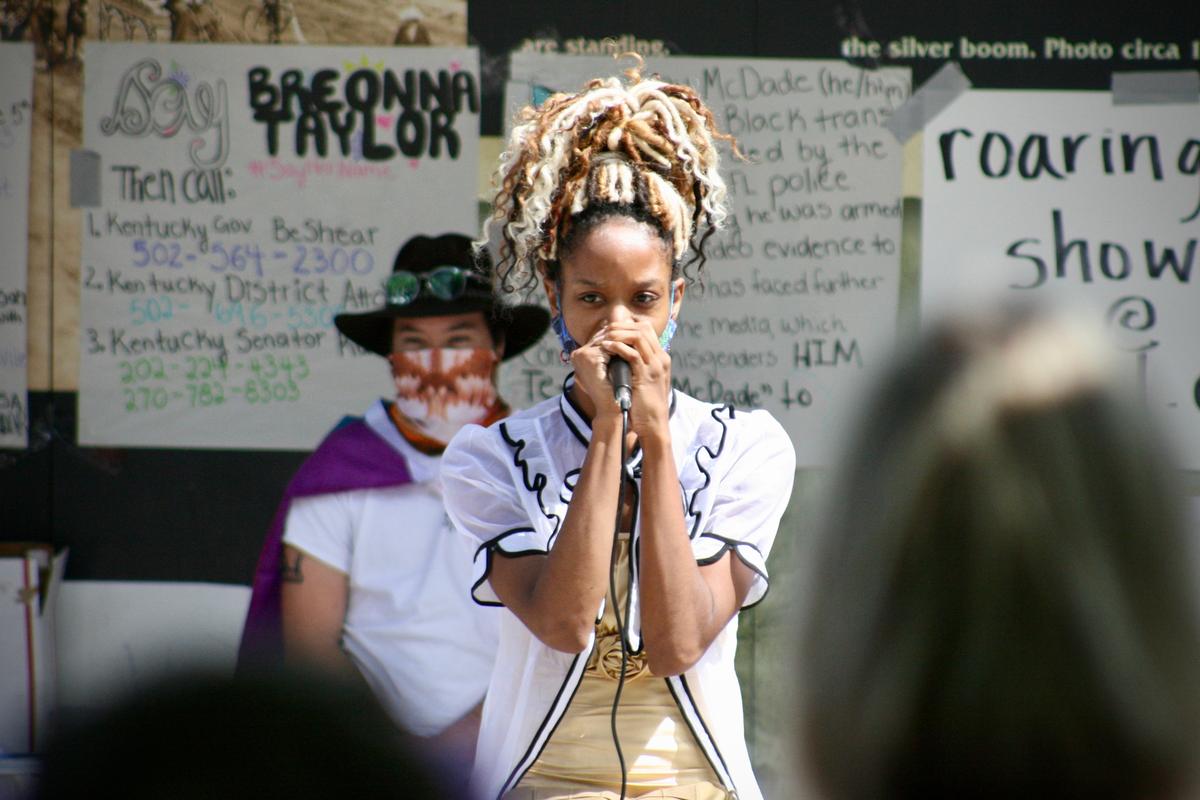 Beyond The Protests: Sajari Simmons On The Long-Term Work Required To Fight Racism
Protests against racism and police brutality swelled to hundreds of people in Aspen last weekend. More demonstrations are planned for Saturday and Sunday morning at Wagner Park.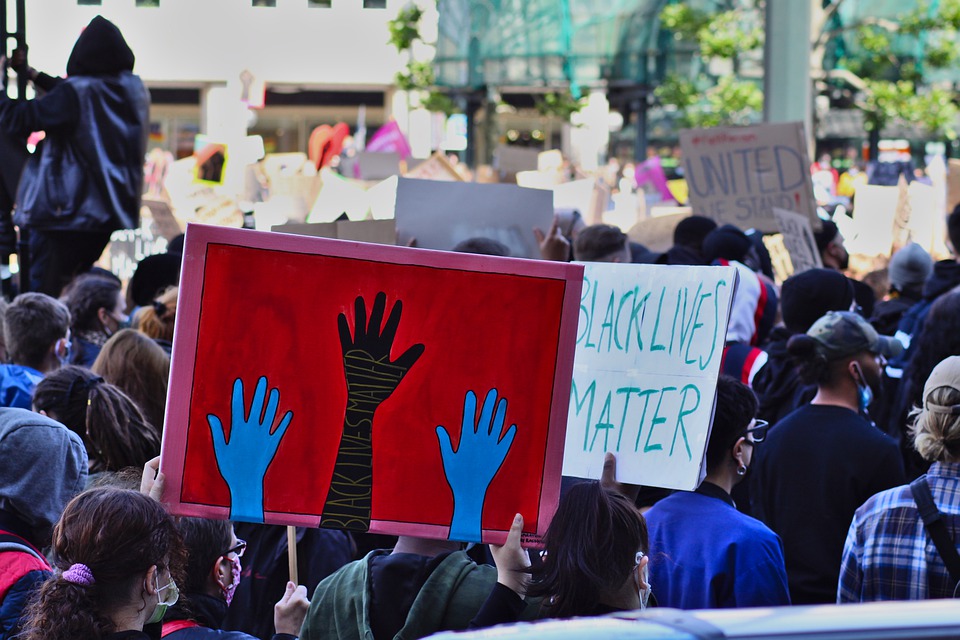 Does the BLM Movement Make You Uncomfortable?
To the people in Aspen questioning Jenelle Figgins, leader of the peaceful protests the last two weekends, about violence and looting and the potential of it taking place in Aspen.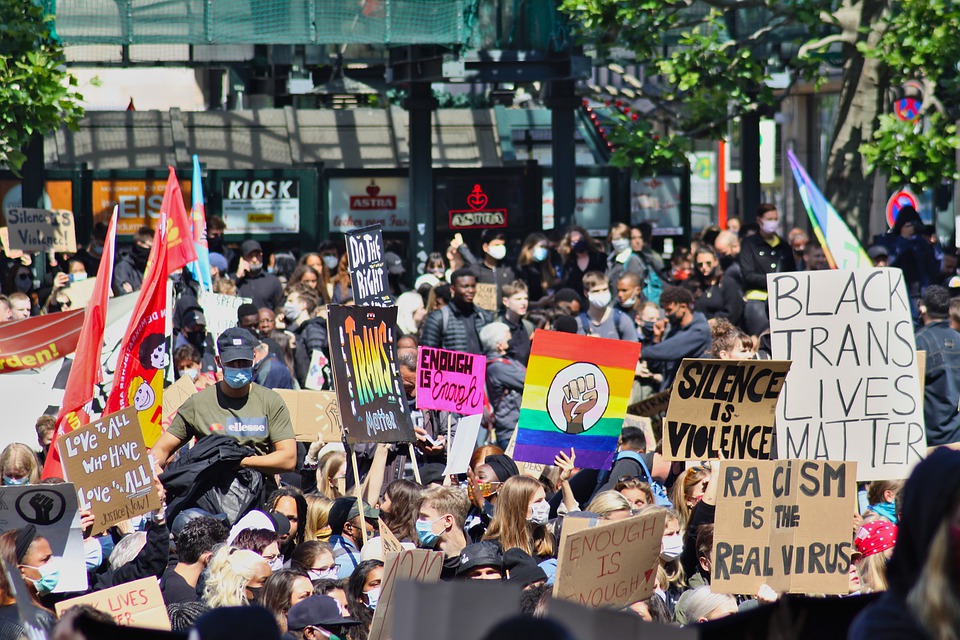 Black Lives Matter Demonstration in Aspen Grows to More Than 100 on Wednesday
It would have been reasonable to assume that, based on its participants, the demonstration of nearly 90 young people gathered at the Gondola Plaza Wednesday morning was organized by Aspen High School students.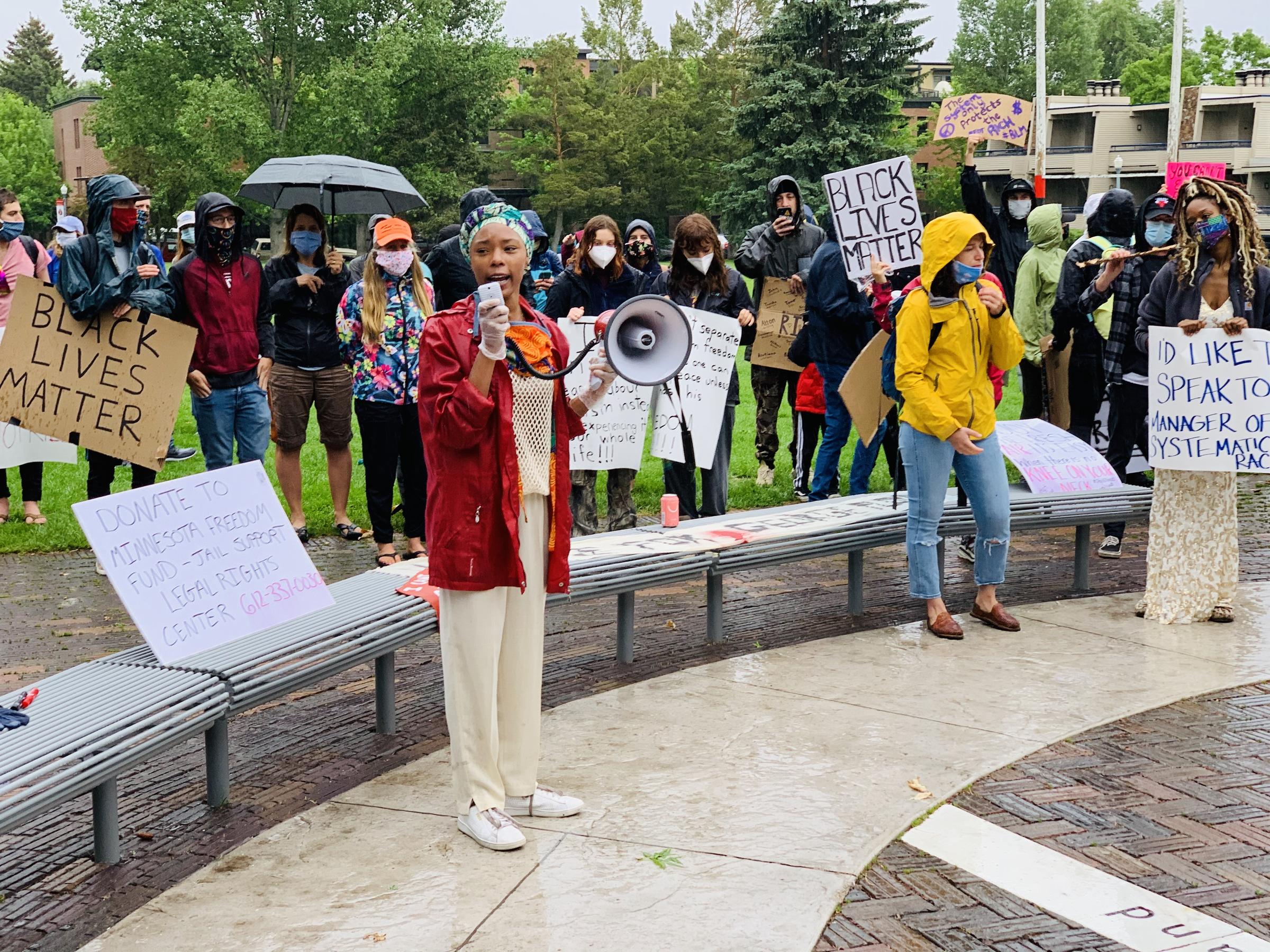 'I Want To Challenge Your Comfort:' Hundreds Gather Throughout Roaring Fork Valley To Protest Racism
This weekend, protesters gathered throughout the Roaring Fork Valley to call attention to systematic racism and police violence in the wake of George Floyd's death in Minneapolis.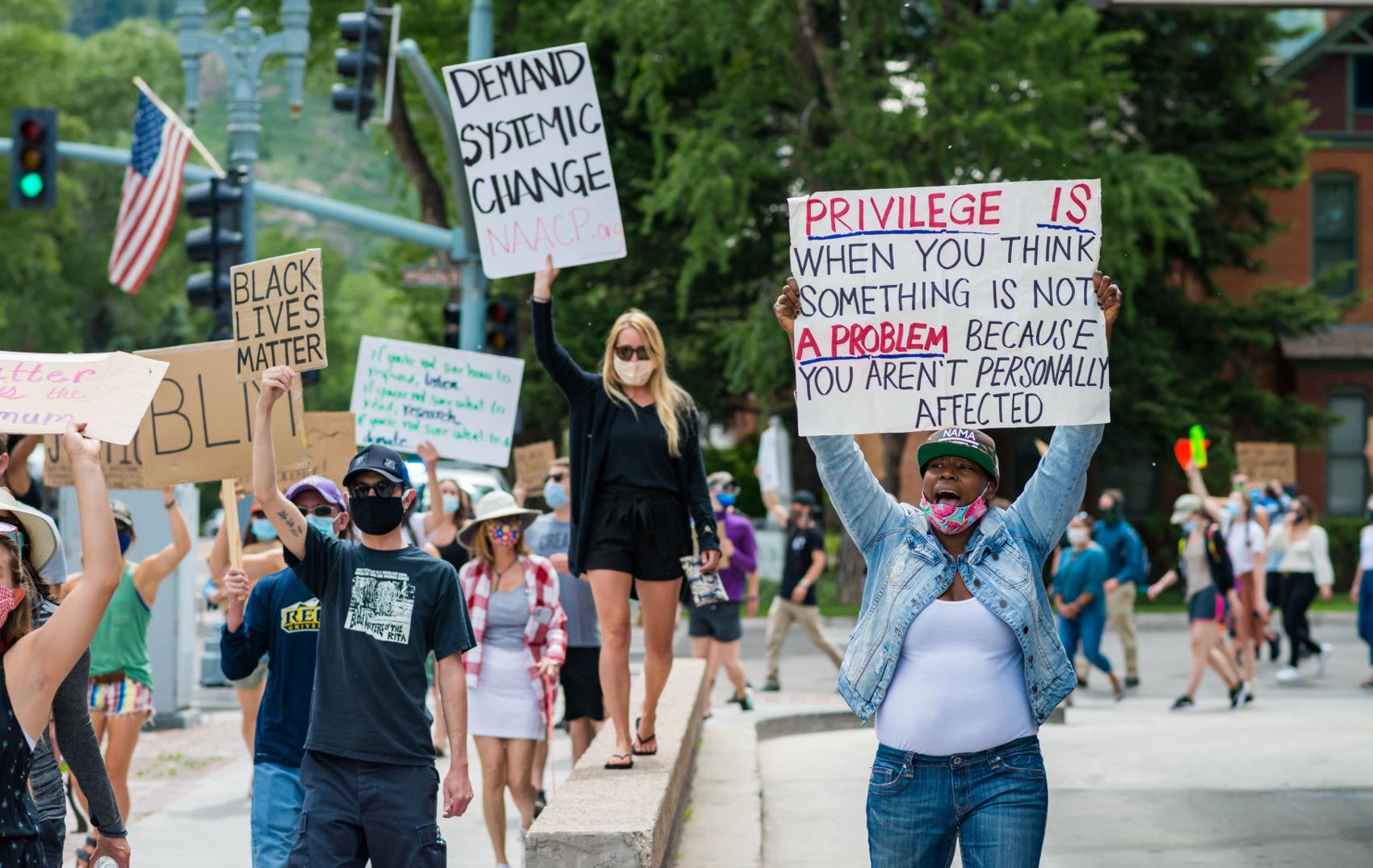 Demonstrators Express Commitment During Latest BLM Event in Aspen
Demonstrations in Aspen's downtown core on Sunday took a departure from past protests supporting the Black Lives Matter movement, in terms of the symbolism.
Rather than lying face down in the grass for eight minutes and 46 seconds — reflecting the amount of time George Floyd was held…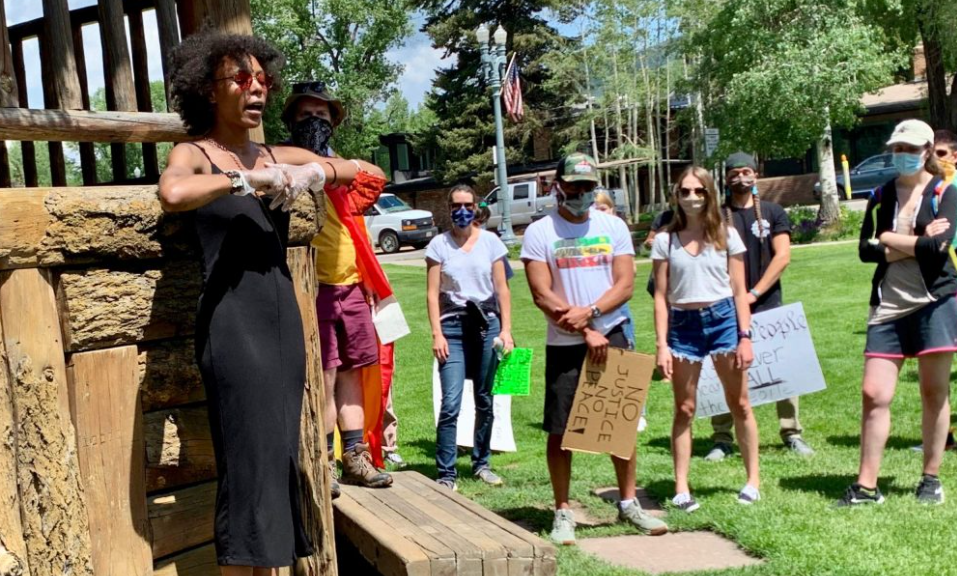 Roaring Fork Show Up Decries Systemic Racism, Oppression Saturday in Aspen
A local movement protesting systemic racism and oppression in America marched into its third weekend in Aspen on Saturday.
Led by the local group Roaring Fork Show Up, demonstrators issued calls of "Black Lives Matter," "white silence is violence," "no justice, no peace," and "defund the police."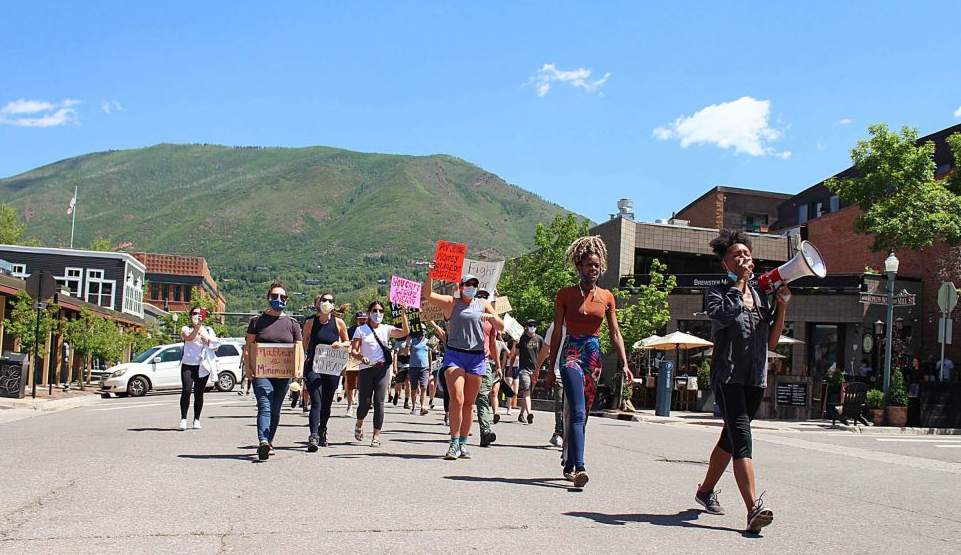 Roaring Fork Show Up Rally Focuses on Empowering Women, Kids
There was a slight shift in focus of the sixth Aspen rally against systemic, anti-black racism and in support of the current Black Lives Matter movement Sunday. 
Instead of chanting things like "I can't breathe," organizers asked participants to use phrases like "We can breathe," aiming to create a more positive, change-driven demonstration.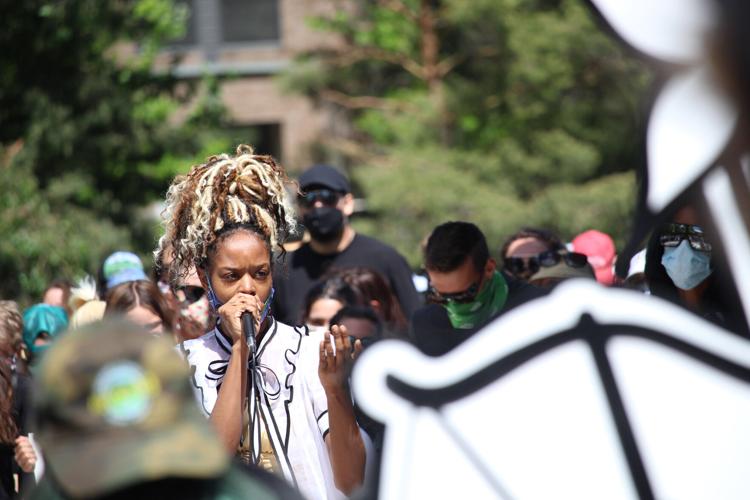 Black Lives Matter Supporters Hold Fourth Aspen Protest in Eight Days

.
Sajari Simmons speaks at Wagner Park on Sunday to those who gathered to participate in a protest and march in the wake of the recent death of George Floyd as well as other black individuals nationwide whose lives were lost as a result of police action.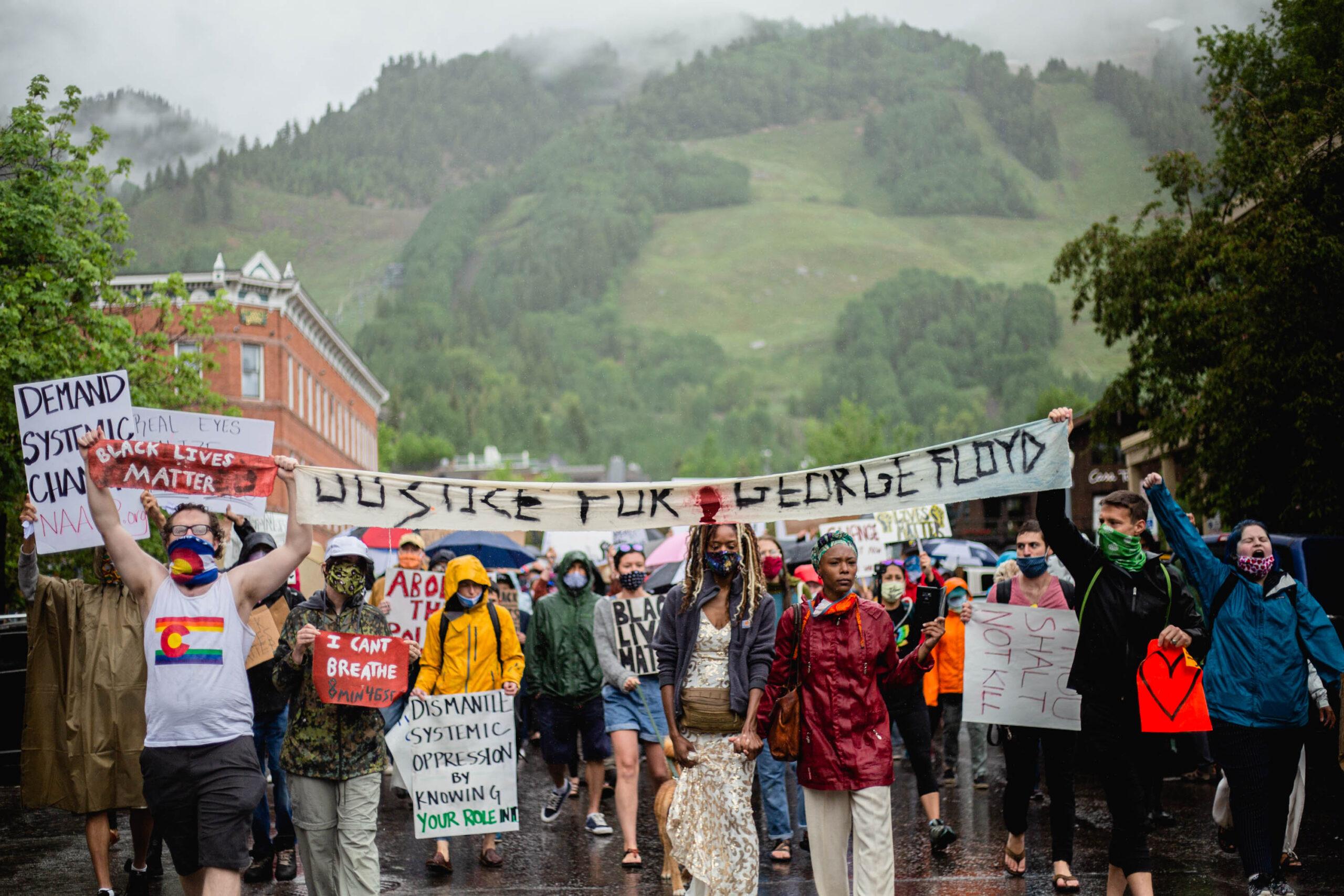 Aspen Times' BLM Coverage was Flawed
Dear whoever read the article titled "Hundreds of people flood the streets over Floyd, BLM," published this past Sunday,
We are grateful The Aspen Times covered the protest; however, we have feedback about the article from the counsel of the two women who led the event, Jenelle Figgins and Sájari Simmons.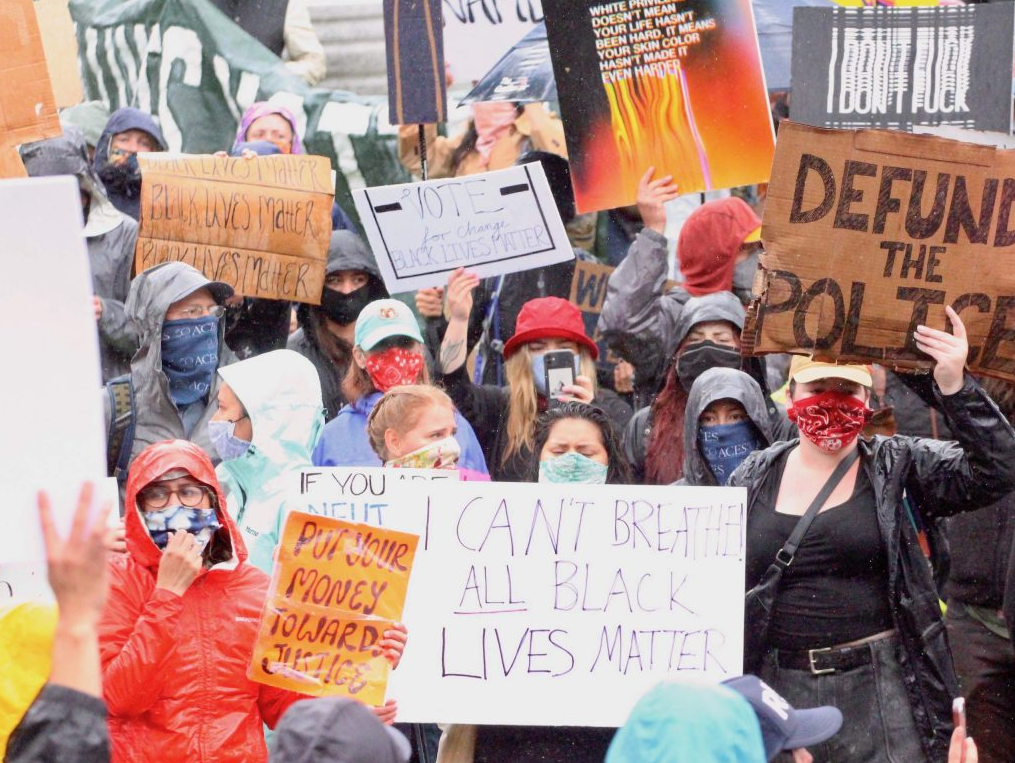 Aspen Elected Taking Measures for Social Distancing at BLM Protests
City of Aspen officials are working to get a sound system set up for this weekend's Black Lives Matter protests in Wagner Park in an effort to spread people out and reduce their chances of getting infected by COVID-19.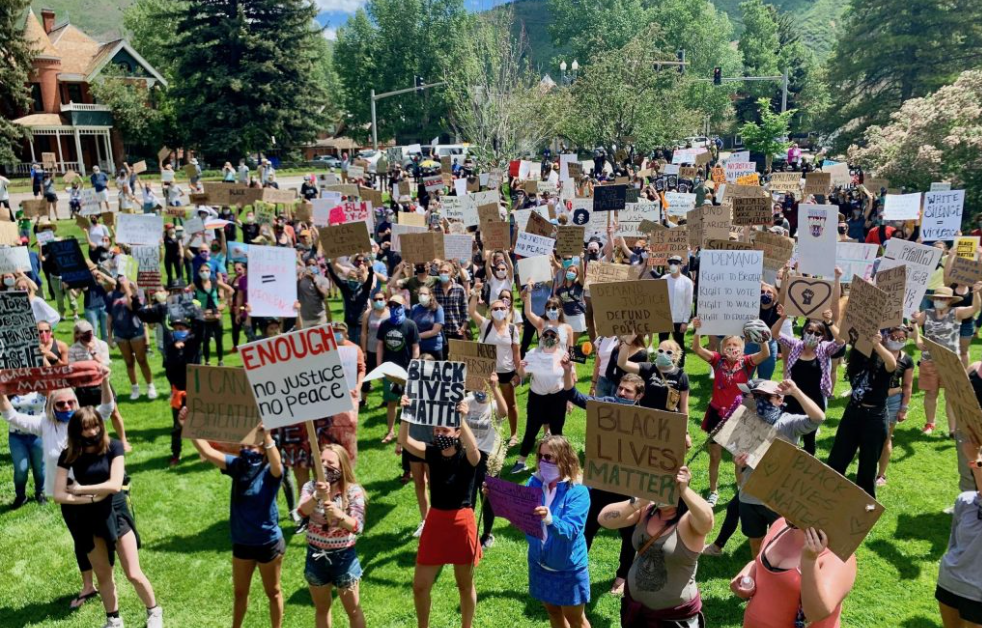 Signs of the Times from Aspen Protest Sunday
Hundreds of people rallied again Sunday in Aspen to march and protest the death of George Floyd and support the Black Lives Matter movement.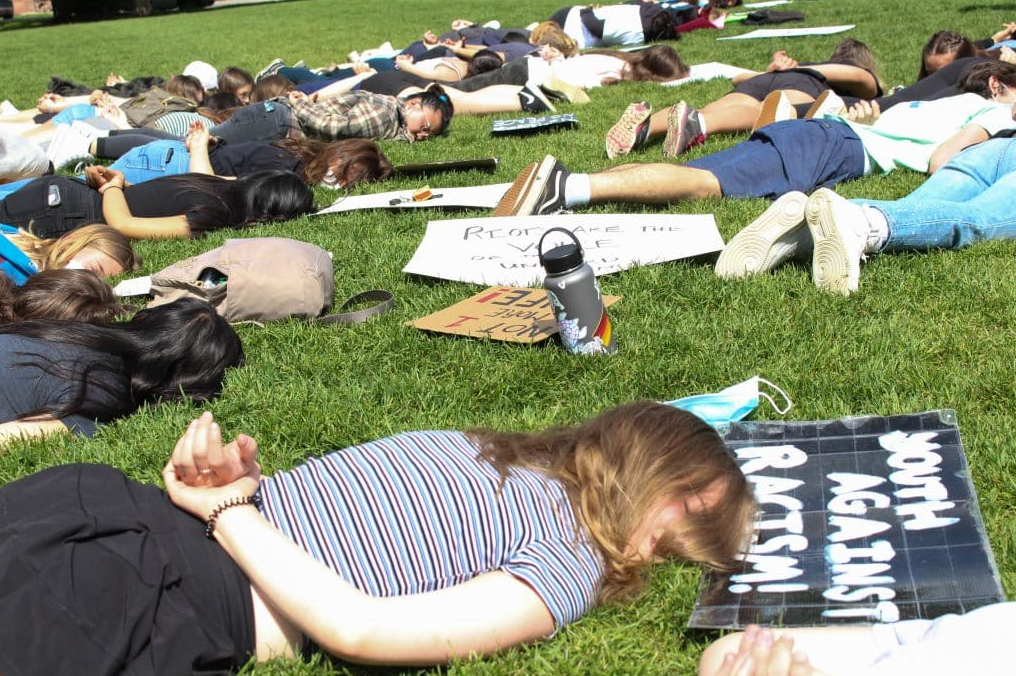 Aspen Area Cops Decry Racism, Vow Safe Weekend Protests
Local law enforcement spoke this week with the organizer of two demonstrations against racism this weekend in Aspen following the death of George Floyd to ensure they will be safe.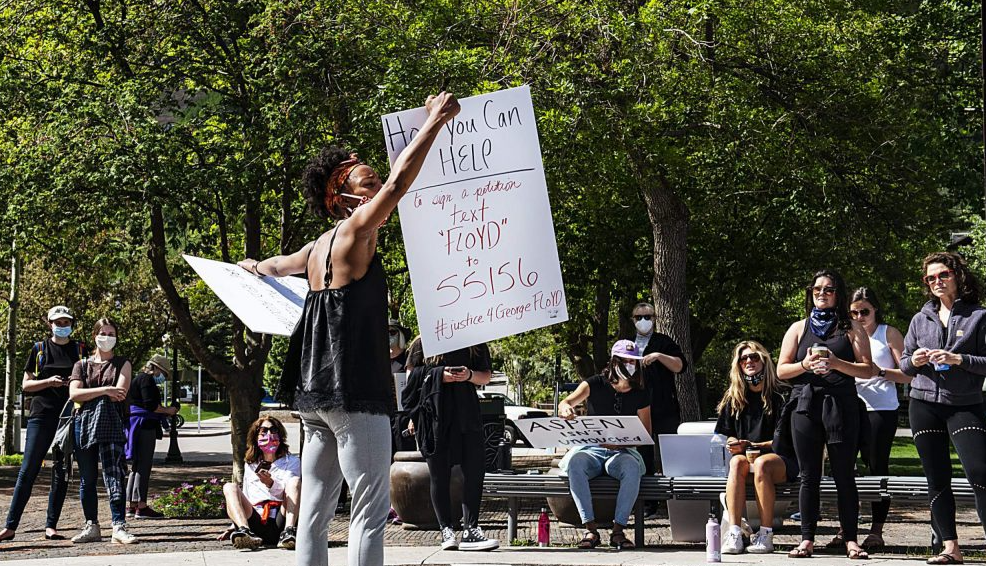 Taking A Stand: Aspen Locals Peacefully Protest, Speak Out About Death of George Floyd
For nine minutes Sunday, dozens of Aspen locals repeated these three words over and over while face down on the pavement next to Wagner Park, their hands behind their backs.
"Nine minutes is a long time, y'all," Jenelle Figgins said to the group as they began to get back to their feet. "But you can breathe now, right? There are so many people in this position who can't when they finish."